( Against Shri Sammed Shikharji: as tourist spot)
As we know, Jain is one of the most peaceful communities in this world. To be peaceful does not mean that they have no rights to fight for their own right . (JAIN PROTEST)
PROTEST IN JHARKHAND (JAIN PROTEST)
The issue of Shri Sammed Shikharji, is in light . Government of jharkhand is expanding tourism. It is looking forward to enriching its environment.  So that more tourists from India and all over the world can visit jharkhand.
Expanding tourism is one of the best steps taken by the Jharkhand government but the sentiments of JAIN people must not hurt. Jain people believe that prayer is sacred , part of the individual and Tirthankaras. Tourism will interfere with the daily chores of meditation, prayer , sermons etc.
Jain's all over the country are united. They are protesting against the government of jharkhand. The Jain community is very conscious about the decision to turn PARASNATH and Shri Sammed Shikharji pilgrim as tourist center.
A similar issue was raised by Jain people, when the government of Gujarat vandalized Jain temples in Palitana hill .
City like Kolkata, ranchi, varanasi , Gujarat, haridwar are the epicenter of Jain religious people. The area's environmental conditions will be degraded due to the bombardment of large groups of people. The sacred area of parasnath will be deteriorated .
The Ministry of Pilgrimage should be established in Jharkhand immediately so that the development of Siddha Kshetra Parshwanath mountain and all other pilgrimage sites there is in accordance with the followers of the Jain faith.
JHARKHAND has a great possibility of tourism but it was not a government priority . Last year in 2022 , the government realized its mistakes, that there must be a proper list of tourist places in jharkhand. In this list, the government decided to keep some of the temples, shrines and falls in the list. In a uniform manner there is a plan to increase the number of places in the list. MINISTRY OF TOURISM, has informed that SPECIAL PRIORITY IS GIVEN TO JAIN SHRINES.
The places of religion will be now, the tax plaza for the government. It is not acceptable by the Jain followers. Also the level of pollution will increase in these areas, which will be not acceptable.
Each and every year Jains do trekking for 27 km . It is not easy to climb in the harsh conditions. But the holy faith of them helps them to reach the shrine of salvation.
The tribal people of Jharkhand are also concerned about the government's steps . They also keep faith in the Jain religion . They respect the Jains and participate in their religious affairs.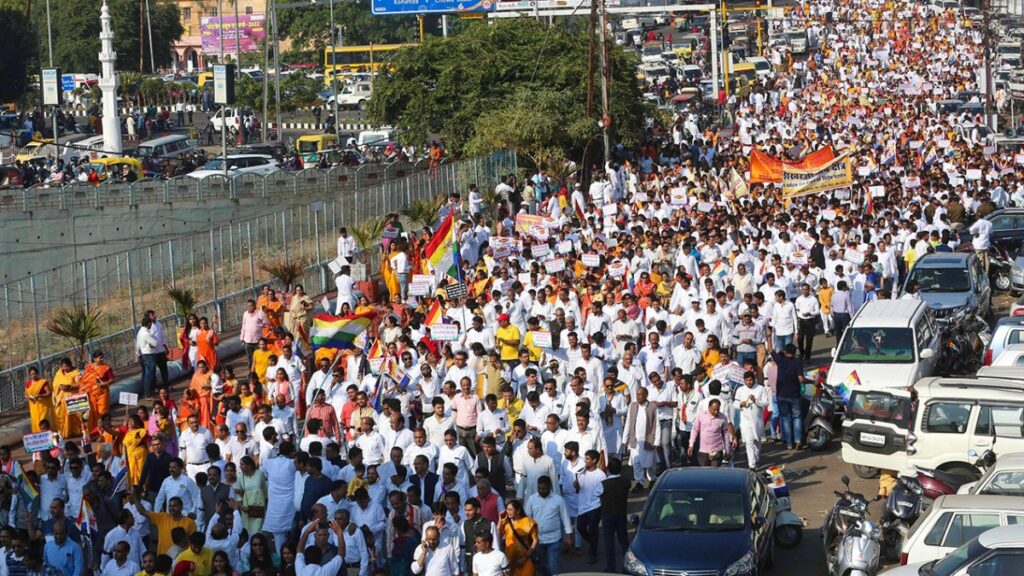 REVOLT LIKE A FIRE (JAIN PROTEST)
Jain people, this time , decided that they will protect their rights . On the first January, thousands of Jain were on the road . The street road was full of protest. This protest was in a very peaceful manner . There was no property harmed or violence. This shows the integrity of the Jains.
JAINS GRIEVANCE (JAIN PROTEST)
To provide a communication channel, to talk to the government.
Government has to ensure certain things. If Jain's shrines will be tourist places.
People need to follow the Jain rules and regulations,if they want to visit these places.
There will be loss of ethical value if people will visit and eat , flesh ,meat and egg etc.
Government till now , has not given any indication for the GRIEVANCE of Jain people.
PLANE OF GOVERNMENT (JAIN PROTEST)
Government has many planes to make Shri Sammed Shikharji and parasnath hill as a tourist place:
Construction will be made on the basis of the theme park.
Tourism reception center will be construed
There will be bus , car and bicycle parking stands.
Some large buildings will be constructed, to support people to stay for a longer period of time.
A road will be constructed for the journey .
We can clearly understand that by construction, the weather of the area will start deteriorating. Also many trees will be cut. Mountain has to be slash down , to construct the project.
Jains are really feeling that their culture, values will extinct.
As per the development plan envisioned by Raghubar Das's government, a helipad akin to Vaishnodevi was to be constructed at the Shikharji hills, to help travelers reach the summit with little effort, given that it entailed walking about 25-30 kilometers on foot to complete the journey. The plan also included the construction of a Theme Park, Tourism Reception Centre, Car parking center and Bus stand in Madhuban town, situated at the foot of the Parasnath Hills that cradle the Shri Sammed Shikharji pilgrimage center.
MAIN BELIEVE OF JAINS (JAIN PROTEST)
The soul clings to matter, the body (karma) Action also causes karma
Attachment to things and/or people also adds karma Samsara, reincarnation is a cosmic law, caused by
karma No living being is to be injured (ahimsa)
Strict asceticism is the path to liberation
Moksha (liberation) is achieved by one's own individual effort without the help of deities or the Tirthankara
The Tirthankaras are models of perfection and achieving the highest spiritual state.
MAIN PRACTICES OF JAIN
Belief of "Adi-anant" Cosmos and all of its constituents always existed and will always exist and there is no creator
Belief of "Sambhav: All are equal. All living entities, such as plants, animals, humans etc., have potential to attain 'Nirvana' and should be treated with equal reverence
Belief of "Vastu Swabhav Every object has an inherent state and a true/natural behavior and it should be recognized as such
Belief of "Ahinsa": Non-violence in our thoughts is as important as the non- violence in our actions
Belief in "Anekantavada". There are multiple ways to reaching a goal and
have multiple points of views. We must embrace this diversity.
Belief of Veetraagta: Accumulation of possessions and attachment is unnecessary and should be avoided as such
Jeev when combines with Pudgal or when one Pudgal combines with another Pudgal, it results in what is referred to here as Object (manifestation)
JAINISM HAS THREE PRINCIPAL (JAIN PROTEST)
RIGHT FAITH
RIGHT CONDUCT
RIGHT KNOWLEDGE
BACKGROUND  (JAIN PROTEST)
Raghubar Das , who was leader of the bjp government, was committed that he will maintain the sacredness of the Shri Sammed Shikharji. On twenty- second October two-thousand and eighteen raghubar das and Jain's held a delegation to discuss. But there was no much impact on current government.
Check This https://www.cscnews.net/habits-that-harm-your-brains-evenyually/
For Web Tool https://web-tool.co.in/
Article by :- "Your's_Vikash"