Indian Army Win.
It's all about Tuesday ( 9 dec, 2022) in Anuranchal Pradesh there were clash between Chinese People's Liberation Army (PLA) with Indian Army. According to ANI reports, the Chinese troops approx 300 came with drones to capture or trying to bid to change in actual LAC (Line of Actual control) at Yangtse in the Tawang sector of Arunachal Pradesh.
As per News of by India's defense minister RAJNATH SINGH stated that Our Army fought bravely and beaten to Chinese troops and also forcely back from our mother land. And our defence minister assured us that our Military is now able to reply back if any aggression is happen to our mother land.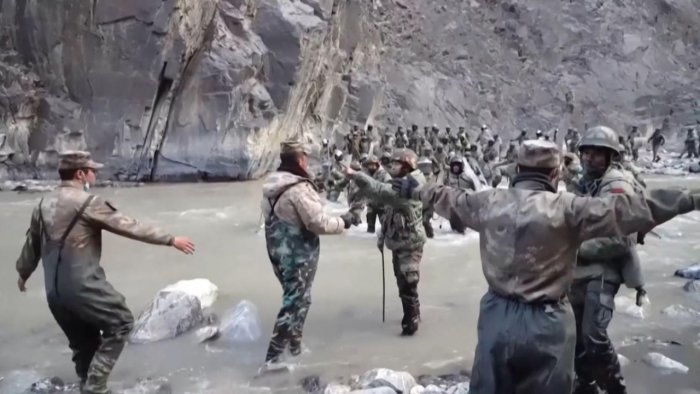 Reason of conflict –
Reason behind the conflict is entering in our land by Chinese troops and trying to cross our LAC and throwing stones to Indian Army by 300 Chinese troops.
Reaction by Indian Army:-
They successfully opposes to Chinese troops. In Indian Army there were 3 different units or battalion are SIKH LIGHT INFANTRY, JAMMU AND KASHMIR RIFLES and JAT REGIMENT were present in location. Indian Army backed them forcely and make a area clear in few hours.
Recation by Chinese government:-
After opposes by Indian army within an hour a spokesman Wang Wenbin Chinese foreign ministry addressing media that smooth communication happen boundary-related issues through diplomatic and military channels.
And Chinese foreign ministry said that there troops were gone for regular petroling to LAC area and Indian Army make a move first. He gave a diplomatic answer to make there citizens to analyse that Indian Army make a wrong move.
Indian government view:-
Amit Shah statement in parliament that:- In PM Narendra Modi government no one can takes a one inch land from us.
Rajnath Singh:- assuring that our LAC is in best control of our brave Army.
Indian army ke pass kitne hathiyar hai
हालांकि भारत ने अपने परमाणु शस्त्रागार के आकार के बारे में कोई आधिकारिक बयान नहीं दिया गया है पर हाल के अनुमान के मुताबिक भारत के पास लगभग 150-160 परमाणु हथियार हैं। 1999 में भारत के पास 800 किलो रिएक्टर ग्रेड और कुल 8300 किलो असैनिक प्लूटोनियम था जो लगभग 1,000 परमाणु हथियारों के लिए पर्याप्त है।
India_vs_china
indian_Army_vs_chinese_troops
Rajnath_singh_statement
Fact_about_clash_India_vs_china
Amit_shah_ statement
Check This https://www.cscnews.net/habits-that-harm-your-brains-evenyually/
For Web Tool https://web-tool.co.in/