WhatsApp Users Alert !!! (KBC Fraud)
Beware, They promise a 25 lakh's payout.
⦁ This is a completely fake WhatsApp message which informs you that you have won an amount of Rs.25 Lakh in a lucky draw.
⦁ According to the officials of KBC they never offer you this type of lottery.
⦁ This type of fraud is done to take all the banking information from the user.
⦁ You can easily verify that this type of information is false, just by seeing the grammatical error's & the lack of professionalism in the poster's sent by them.
⦁ These type of fraud call are generally made from countries like Pakistan, Bangladesh, etc. However, some callers can be from India also.
⦁ Amitabh bachchan has already warned the viewers that Sony TV does not offer this type of lottery and also does not ask for any type of money.
⦁ Every year thousand's of people come across this type of fraud . And a few of them get easily scammed in it.
WhatsApp is an instant messaging application which is now becoming more vulnerable to hacking these days. (KBC Fraud) The police agency also warns that messages giving financial awards are generally fraud and people should not trust them. The Cyber Crime Unit of the Delhi Police issued a detailed blog post outlining what to look for and how to file a report. Most of the well educated people ignore this type of fraud messages but some less educated people easily get scammed in this type of fraud. This type of fraud misuses the shows credibility .

They also provide a phone number in the poster, claiming that the number provided is of the bank manager of SBI (State Bank Of India). In this type of fraud the bank is not responsible for any loss. And that is clearly instructed by the bank itself. (KBC Fraud)
In the poster they also use the logos of companies like JIO , Airtel and Banks like SBI , RBI , etc.
" Safety Precautions " (KBC Fraud)
Ignore this type of fraud messages. And do report and block these type of fraudsters . However if you have purchased a genuine lottery ticket then you should wait for the results in the official website and should not trust this type of messages. (KBC Fraud)
Any message promising lottery prize, whether from KBC or any other organisation, is a fraud in all likelihood. How can you win a lottery out of nowhere?
One can identify such messages from poor drafting, numerous grammatical errors and lack of official communication links.
ये फ़र्ज़ी है, #KBC फ़्रॉड है। इस तरह की कोई लॉटरी स्कीम नहीं है। देखने से ही उठाईगिरे का काम लगता है। क़तई इनके जाल में ना फँसे, लूट लेंगे। (KBC Fraud)
If you have purchased a lottery and are waiting for its result, then you should trust only the official sites. Any genuine lottery will properly explain the tax component and other charges to be deducted from the winning amount.
How does this fraud take place? (KBC Fraud)
In this cyber fraud done under the KBC lottery scheme, the fraudsters send WhatsApp messages to victims from unknown numbers (most of them starting with +92, the ISD Code of Pakistan) claiming that their mobile number has won a lottery jointly organized by Kaun Banega Crorepati. They place logos of Reliance Jio and even State Bank of India in the WhatsApp message while promising a lottery worth Rs 25 lakhs. Then they ask their target to contact some person whose number is provided in the same WhatsApp message in order to claim that lottery.
If the victims call on the given number, the fraudster asks them to first pay a refundable processing fee/GST/enrollment fee to claim the lottery. If the victims make the first transaction, they keep demanding more money on one pretext or another.
If the fraudsters sense that the victims have grown suspicious, then they claim that the lottery amount has been increased. They stop communication if the victims start demanding their money in return.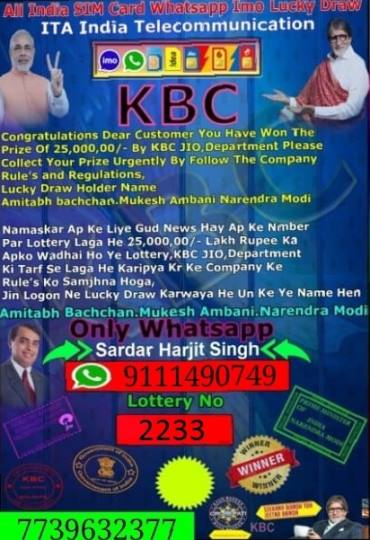 ⦁ Some YouTube videos exposing this type of fraud
Check SBI Job https://www.cscnews.net/sbi-po-job-2022-apply-online/